About Wisconsin Black Bear Guide Service
A very unique bear hunting option …
All of our Wisconsin bear hunters receive their own active bait that WILL NOT have another bear hunter in it for the entire season. What that means is that up until your reserved bear hunt date, we will have an active baited stand set up specifically for you.
Zone A Hunting ...
We have private property and active bait sites in Zones A. We are currently offering 5 day Wisconsin bear hunting packages, please contact outfitter Joe Kalmon for specific pricing and package options.
Additional Options ...
For an extra fee we will also continue to bait for you through the season. Again, please contact Wisconsin bear hunting outfitter Joe Kalmon for more details on these exclusive Wisconsin bear hunting packages.
We make your hunt a special experience
Featured Hunts...
About Wisconsin Black Bear Guide Service....
Offers our Wisconsin bear hunts over bait hunts only in Zones A. With thousands of acres to hunt, of which 90% is private land. With all the pre-scouting done, all stations are pre-baited well ahead of time and easily accessible stands are put in place before you arrive. We will also help retrieve your bear.
We have access to two walk in coolers available. No matter what you hunt with bow, rifle, black powder, crossbow or pistol; we can accommodate. With the limited amount of tags each year, this has enabled many bear to get to trophy size.
Our population of bear is very good with many respectable bears. Chances of obtaining a trophy sized bear are also very good. Our typical bow stands are 12 ft-14 ft high with an average bow shot of 15-20 yards. We are not a jack of all trades, offering fishing, deer, and small game hunts- we specialize in one thing- Wisconsin guided bear hunts only!
Testimonial:
As far as your operation goes, it is top notch!! I was very impressed with your stands and the baiting operation. As a bow hunter stand placement and comfort is everything, and these fit the bill. Your explanation and preparation was excellent and I appreciated all of the information and hard work.
Mike Blaser - Janesville, WI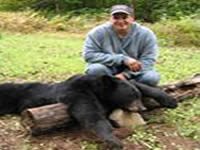 About Me: Hello, my name is Joe Kalmon owner of Wisconsin Black Bear Guide Service. I was born, raised and have spent most of my life in northern Wisconsin, particulary in the Mellen and Bad River Indian Reservation area.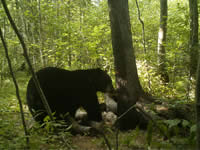 My Knowledge: In doing so provided me with three things since childhood-the chance to learn the lay of the land, how to hunt the bear that live here and the time given to me to establish many, many friendships offering you for the most part the chance to hunt on privately owned property.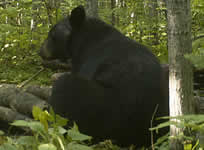 My Promise: Your bear hunt is important to me - I realize how long it takes to acquire a tag and I will take the time with you to detail out everything you need in order to make your next Wisconsin bear hunting adventure a success.